Kennards Self Storage at Wairau Valley opened for business on the 8th June 2021. This state of the art storage centre is conveniently located on 125 Wairau Valley, Auckland, with access off the very popular Curry Lane. Whether you are heading South or North on the motorway north of the bridge, you will not miss the iconic Orange and Blue Kennards Self Storage building – in fact it has become such a major landmark – it can be clearly seem on the NZTA traffic cams.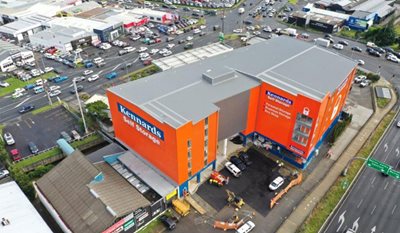 The Centre Manager Mark is extremely excited about opening the centre. "this will be storage centre number 9 for Kennards Self Storage in New Zealand." Mark also goes on to say "I am excited to introduce the latest storage centre to the residents of Wairau Valley and Auckland, with the increase in people cashing in on their homes in a hot market, this purpose built storage facility will suit even the fussiest of customers."

Mark a Kiwi himself has worked with Kennards Self Storage for over 15 years. He has managed many Kennards facilities across the ditch, assisting with the opening of many new facilities in his time. He relocated back to NZ several years ago, managing the Three Kings location and now taking on the challenge of this new multi-story facility. He has a wealth of knowledge when it comes to finding the perfect storage solution for his customers, emphasising the "Store with People who Care" ethos.

Leonie will also join the Wairau Valley Team as the Assistant Manager. Leonie has over 20 years experience in property management and working closely with her customers. Her friendly and bubbly personality make the storage experience fun and memorable.

Here are what some of our customers had to say about Mark:

"Back here again. Whether its short term or long term it's convenient and location is good. Staff are great and helpful. Nothing is ever a issue. It's very clean. Everything to meet storage needs. I recommend this facility for storage. Its my third time storing here."

"Excellent service. Very easy process. Helpful staff".

"Secure and clean facility with lots of options and great customer service. Highly recommended!"

"Great facilities, easy access and helpful staff."