City Overview
The Bay of Plenty (Māori: Te Moana-a-Toi) is a bight in the northern coast of New Zealand's North Island. It stretches 260 km from the Coromandel Peninsula in the west to Cape Runaway in the east. The Bay of Plenty Region is situated around this body of water, also incorporating several large islands in the bay. Volcanic Crater, White Island, picture coutersy of Julius Silver

Tauranga is a harbourside city in the Bay of Plenty region on New Zealand's North Island. It hosts historic buildings like the Elms Mission Station, an 1847 Georgian-style home. A bridge over the harbour connects Tauranga to Mount Maunganui, a beach town with hot saltwater pools and an extinct namesake volcano with winding walking paths.
Source: https://en.wikipedia.org/wiki/Bay_of_Plenty

Fun Facts and Trivia about Auckland
Despite not actually landing here, Captain James Cook named this region the 'Bay of Plenty' in 1769 because he observed many Maori villages with well-tended gardens from his ship the Endeavour.
Mount Maunganui's Main Beach has been named the best beach in New Zealand, second best in the South Pacific, and ranks in the top 25 beaches in the world according to Trip Advisor.
Mauao is our iconic mountain that stands right at the tip of Mount Maunganui. This extinct volcano sits 232m above sea level and its 3.4km circular base track is one of New Zealand's most popular walks.
Tauranga Harbour covers an area of 200sq km. A massive 290,000,000 tonnes of water passes through the harbour entrance with each tide
Tauranga is New Zealand's fifth largest city behind Auckland, Christchurch, Wellington, and Hamilton.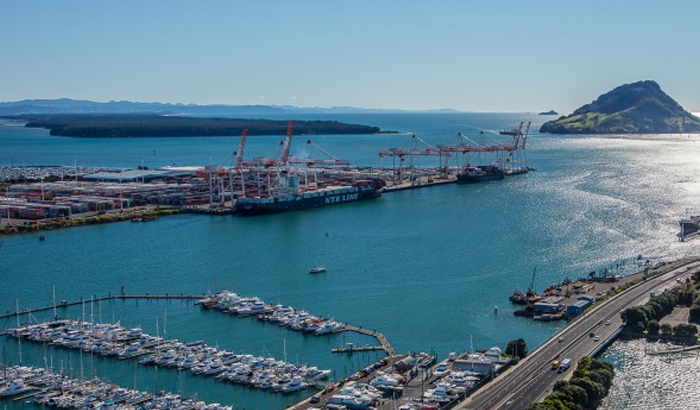 Tauranga Harbour picture courtesy of Port for the Future
Relocating
Encompassing everything from good sized modern cities to smaller regional towns along with rural, beachside and lakeside areas, Bay of Plenty really does offer virtually any lifestyle option you could wish for.
With an estimated population of more than 130,000 people in 2017 according to the Tauranga Statistical Information Report put out in May 2018, Tauranga is a small city – but New Zealand's sixth-largest by population.
here is no best or cheapest place to live in Tauranga—there are safe suburbs and great neighbourhoods throughout the city, each with their own features and highlights. There has been a lot of development in the town, and anyone looking to live and work in Tauranga will find plenty of different housing options, from standalone houses on large sections in the outskirts to more high-density options and some apartments in the inner suburbs.
House prices in Tauranga reached a median of $660,000 in 2018. Renters can expect to pay $400-$500 per week for a small house, with prices rising in popular beachside suburbs like Papamoa and Mount Maunganui which are considered among the best areas to live in Tauranga due to the coastal lifestyle.
Source:
https://www.newzealandnow.govt.nz/regions-nz/bay-of-plenty/housing
https://www.workingin-newzealand.com/locations/tauranga-and-the-bay-of-plenty/
Schools
There are many primary and secondary schools in Tauranga, each offering a quality learning experience under the New Zealand schooling system. There is no university in Tauranga as such, but there is the Bay of Plenty Tertiary Education Partnership which has three campuses throughout the city.
Source: https://www.workingin-newzealand.com/locations/tauranga-and-the-bay-of-plenty/
To learn more about school performances and to find a school go to Bay of Plenty Education.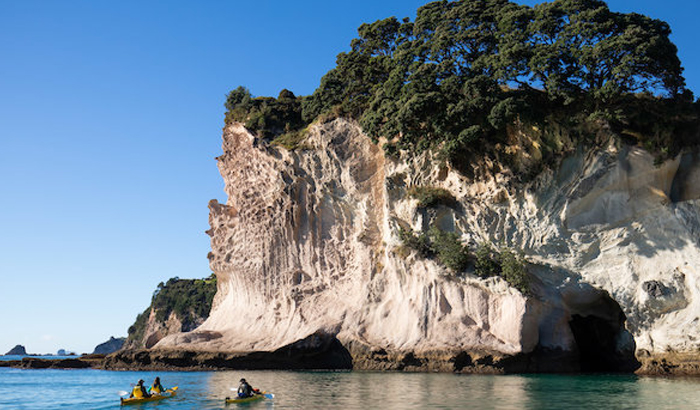 Cathedral Cove picture courtesy of 100% Pure New Zealand
City Resources
Bay of Plenty Regional Council
Getting around
Tauranga's public transport consists primarily of the Bayhopper bus system, which covers the city, Mount Maunganui and Papamoa with regular bus service. Regular commuters can buy a SmartRide card which offers a discount on single-ride fares. Taxis are another option for public transport in Tauranga, and Uber has recently launched there, too. Tauranga has an airport with regular domestic service to and from Auckland, Christchurch, Wellington and several small regional destinations.
Employment
Auckland News