City Overview
Hawkes Bay is a region on the east coast of New Zealand's North Island famed for its wine and warm weather.
The region has been recognised around the world for its award winning wines that have been made locally for over 100 years making it New Zealand's oldest wine region. The region is especially known for its fine Chardonnay and Cabernet Sauvignon varieties.
Hawke's Bay is typically the first stop on the classic New Zealand wine trail, with vineyards in close proximity to both major cities Napier and Hastings. It's a popular place for bicycle wine tours too and gourmet feasts in the many cafes and restaurants dotted in and around the wineries. Hawkes Bay Wine Country picture courtersy of Phil Wilcock

Amongst the picturesque and lush wine country are also stretches of glorious beaches. It is one of the warmest and driest regions in New Zealand making it a favourite holiday spot.
The region is split into 5 districts, with Napier and Hastings the main cities housing 80% of the population. To the north is Waiora and to the south is Waipukurau.
You can get to Hawke's Bay by road, cruise ship or by air flying into Hawkes Bay airport from other major cities such as Wellington, Christchurch and Auckland.
The region has a significant Maori population and hosts the country's most elaborate traditional Maori New Year celebrations known as 'Matariki'
Hawke's Bay other claim to fame is a hill with one of the longest place names in the world. Take a deep breath before you try and say its name…
'Taumatawhakatangihangakoauauotamateaturipukakapikimaungahoronukupokaiwhenuakitanatahu Hill', Which roughly translates to "the summit where Tamatea, the man with the big knees, who slid, climbed and swallowed mountains, known as 'landeater', played his flute to his loved one." Locals simply call it Taumata Hill.

Source:
http://www.newzealand.com/au/hawkes-bay/
Fun Facts and Trivia about Wellington
Art Deco McDonalds Napier picture courtesy of Pinterest
Weather in Hawkes Bay
Hawkes Bay is renowned for its Mediterranean style climate with long hot summers and mild winters. It's also much less windy than other coastal areas of New Zealand.
The hottest months are December through to February and the region can experience a very high solar UV index so sun protection is highly recommended.
You can view the weather live at any time by taking a look at the Hawke's Bay Wine Country webcam. As a seasonal guide these are the average daytime temperatures for the Hawke's Bay region you can expect:

Summer: Dec–Feb
Average: 25C

Autumn: March-May
Average: 18C

Winter: March-May
Average: 13C

Spring: Sept-Nov
Average: 18C

Sources:

http://www.napier.climatemps.com/
Relocating
Whilst Hawke's Bay is primarily seen as a great holiday destination, it offers quite an idyllic lifestyle if you are lucky enough to have an opportunity to live and work in the region. Alternatively, the region offers a large number of seasonal jobs particularly in fruit picking and farming.
The mostly sunny climate, proximity to gorgeous beaches and the abundance of great food and wine gives Hawke's Bay residents an attractive, relaxed lifestyle, often compared to that of the Mediterranean.
Health and education is excellent with the inclusion of a large base hospital and an Institute of Technology whose Viticultural qualifications are internationally sought after. The region is also home to some of the country's leading secondary schools.
The two main cities of Hastings and Napier are only 20km apart, but each has their own unique vibe. Napier, the Art Deco city is seen as a trendy, beautiful coffee shop art deco mecca. Hastings is more of your typical Kiwi rural town.
Havelock North has a large UK ex-pat community with excellent housing and schools, a gorgeous little village centre, boutique shopping and great community feel. The area also boasts some of the more prestige properties of the region.
On the property front Hastings and Napier both have 'nice' but less expensive areas, while Havelock North, a picturesque suburb known as the "village" by locals, has three private schools and is considered to be one of the most desirable places to live in Hawke's Bay.
Sport and culture are well catered for with facilities including a recently remodelled Opera House, museums, art galleries and sports arenas.
Scenic attractions include the world's largest onshore gannet colony (Cape Kidnappers), there are many excellent golf courses and the region hosts several classic road cycle races.
The annual Art Deco Weekend, celebrating the cities renowned architecture is one of the notable events of the region as is the famed Mission Estate Concert at Mission Estate and Winery.
Hawke's Bay grows cherries and apples as well as having those classic New Zealand pastoral activities of sheep and beef farming.
Grapes grow well throughout the region, and most famous are the wines developed in the Gimblett Gravels area. The Cabernets and Merlots produced there consistently outperform French competitors in blind taste tests. The region also produces table vegetables, including organic produce. Food and beverage processing, forestry and manufacturing are significant industries.
Tourism is increasingly important in the region. Built around the region's climate, iconic buildings, and wineries, Hawke's Bay hosts many concerts, conferences, sporting events and farmers' markets. For newcomers to the region check the regions Newcomers Network services."
Sources:
http://www.frommers.com/destinations/wellington
https://www.newzealandnow.govt.nz/regions-nz/hawkes-bay

Removalist in Hawkes Bay
Finding a great removalist that can provide you with a professional moving job at a reasonable rate can be somewhat of a daunting experience. We have a number of reliable professionals in the Hawke's Bay area that we can recommend. Here's a list for you to help you get started with:
Moving your business to Hawke's Bay
Hawke's Bay's infrastructure includes excellent road and sea transport links, state-of-the-art communication networks and dedicated industrial, research and business hubs. Hawke's Bay is also seen as a region of innovators. Inventors and designers have excelled across many fields from science and engineering, to food technology and animal husbandry.
New business ventures are supported by a strong economic development structure - from cottage industry to national companies wanting to base themselves in the centrally-situated Hawke's Bay.
The Hastings City Business Association is worth seeking out if relocating or starting a business in this area of Hawke's Bay. The association represents around 480 businesses in the city and membership is made up of retail, professional and service sector businesses. Various initiatives revolve around marketing and running established events that creates more awareness and draws large numbers into the city. The association also provides meaningful networking opportunities so that neighbouring businesses get to know each other and share ideas.
Another programme created to help business in Hawkes bay is the China Connection Programme. It provides an opportunity for brands to target Chinese-speaking markets and raise awareness of their businesses among China traders, importers, distributors and retailers in New Zealand and Greater China.
For additional information check Great Things Grow Where
For more business networking see Business Hawkes Bay

Top Community Services in Hawkes Bay
From helping with transport and parking to family support services and general community services, click here for the extensive list of Hawkes Bay Community Services

Schools
Hawke's Bay is well serviced with plenty of schools including state funded public schools private schools and even private boarding schools. There are over 220 options for early childhood education in the region, plus plenty of primary and secondary school options as well. The Eastern Institute of Technology (EIT) is the main provider of tertiary education for the region. It offers a comprehensive range of courses including eight full-time and three partial degree programmes.
To learn more visit New Zealand Now Hawkes Bay Education
For help with choosing a school in Hawke's Bay go to Education Countshttp
City Resources
Real Estate Agents Authortiy www.reaa.govt.nz
Getting around
Sight Seeing Options at Hawkes Bay New Zealand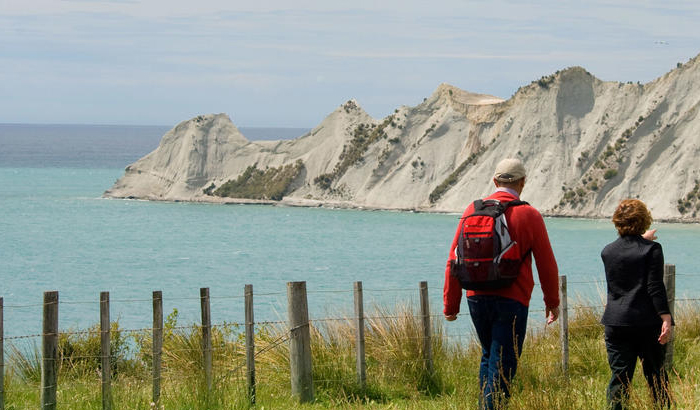 Cape Kidnappers Hawkes Bay picture courtesy of 100% Pure New Zealand
Employment
Job Hunting Resources:
Hawkes Bay News